The Official Football Souvenir Store

Nadine Dorries has insisted that 97% of Tory MPs support Boris Johnson as the prime minister was hit with a further call to resign.
The culture secretary also told Sky News her cabinet colleague Sajid Javid was 100% behind the embattled Conservative leader, after the health secretary sought to distance himself from Mr Johnson's claim that Sir Keir Starmer had failed to prosecute paedophile DJ Jimmy Savile.
Ms Dorries said Mr Javid was "quite shocked" at how his comments on the prime minister's allegation about the Labour leader had been reported.
Live updates: Pressure grows on Boris Johnson to quit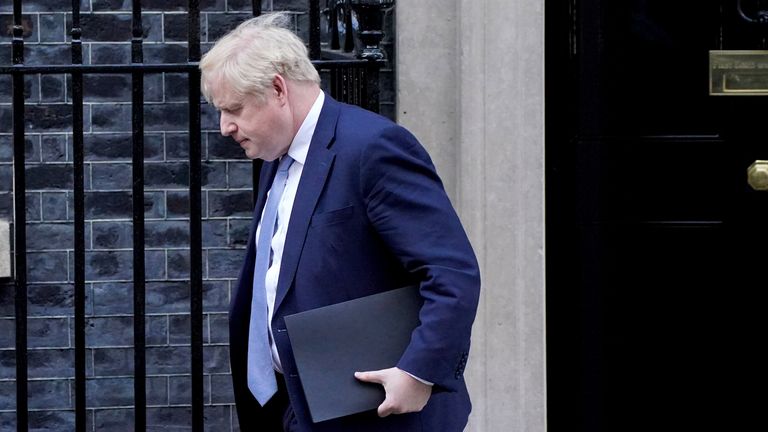 Latest resignation call 'disappointing'
She branded it "disappointing" after former minister Nick Gibb became the 14th Conservative MP to publicly call for Mr Johnson to resign, but said the plotters were in the "absolute minority".
Confirming he had submitted a letter of no confidence, Mr Gibb, who represents Bognor Regis and Littlehampton, said his constituents were "furious about the double standards" following the partygate revelations and that the prime minister had been "inaccurate" in statements to the Commons.
Elsewhere, Ms Dorries sought to infer critics were those who wanted the UK to remain in the EU, despite including David Davis, who served as Brexit Secretary, vocal Brexiteer Andrew Bridgen.
This was also disputed by Tory MP for Wimbledon Stephen Hammond who said it was "predictable rubbish from a predictable source" to suggest those who wanted him to resign were all from a group of usual suspects.
He said he is "considering very carefully this weekend" whether he still has confidence in Mr Johnson and admitted it "certainly looks like" the beginning of the end.
Read more: Which Conservative MPs have called on the prime minister to quit?
But insisting Mr Johnson still commanded support from the Tory benches, Ms Dorries said: "I can promise you that the vast, vast majority of those MPs, 97% of them will be out in their constituencies today… delivering on the promises they made to their constituents and Boris Johnson has made to them."
Seeking to dismiss the critics, she said: "This is an absolute minority in the Conservative Party.
"Because Boris Johnson delivered, and MPs know that, the biggest majority since Margaret Thatcher.
"He has continued to deliver, particularly in those Red Wall and northern constituencies.
"It's OK for those MPs that have safe majorities, but those MPs out in those marginal seats are working incredibly hard and they do make up the vast majority of the Conservative Party."
Ms Dorries also moved to downplay apparently critical remarks by Mr Javid after he said Sir Keir deserved "absolute respect" for the job he did as director of public prosecutions and that it was important the prime minister "clarified" his earlier accusation that Sir Keir had failed to prosecute Savile.
Pressed on his intervention, Ms Dorries said: "I spoke to Sajid Javid last night and he reassured me that he is 100% behind the prime minister.
"In fact, I think he's quite shocked at how his comments have been interpreted.
"What you're reporting about Sajid Javid turning his back on the prime minister is not true."
Backing Mr Johnson, she added: "My perspective on this is that when you lead an organisation, such as the prime minister leads the government, you have to take responsibility for decisions and actions taken by that organisation.
"Keir Starmer took responsibility by apologising in 2013 for what happened in the CPS during the Jimmy Savile investigation.
"If you lead an organisation, the buck stops with you, you are responsible for the actions of that organisation."
Earlier this week, Mr Johnson's long-standing policy chief Munira Mirza over his refusal to withdraw his "scurrilous" accusation about Sir Keir.
M Dorries said: "I have worked with Munira, I like Munira very much. That was Munira's point of view. I have just articulated to you my point of view which is different."
Meanwhile, former cabinet minister Liam Fox said: "I think the prime minister is still being given the benefit of the doubt.
"I think we do need political stability at the present time… this is not time for a leadership election – three months of navel gazing by the Conservative Party.
"You have to always ensure that it's country first, that it's party second and personal ambition third."
Labour frontbencher Lucy Powell argued the prime minister was unable to lead the country at a difficult time in the face of a cost of living crisis.
She said: "It's about a government that has now run out of road, a sinking ship, the last days of Rome essentially."
The Official Football Souvenir Store Liverpool Chelsea Manchester City Arsenal Tottenham Hotspur Manchester United Leicester City Newcastle United West Ham United Barcelona Real Madrid

Source link