The Official Football Souvenir Store

Close to 2,000 artefacts worth millions of pounds are believed to have been stolen from the British Museum by one of its senior curators. 
The museum said last week that items from its collection were "missing, stolen or damaged" and an unnamed staff member had been sacked.
The museum did not specify how many items were stolen or detailed what the missing items were, saying only that they were "small pieces" including "gold jewellery and gems of semi-precious stones and glass dating from the 15th century BC to the 19th century AD".
The majority were "kept in a storeroom belonging to one of the museum's collections" and mainly used for academic and research work. None had recently been on public display.
The number of the stolen items is now believed to be "well over 1,000" and "closer to 2,000", with a value running into "millions of pounds", the Daily Telegraph reports.
It also appears "increasingly likely" that the museum might never know exactly what has been stolen because of "gaps in its inventory," the paper said.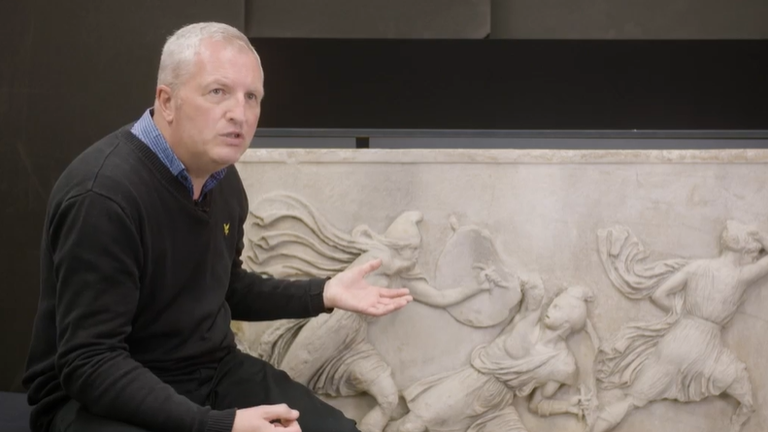 The economic crime command of the Metropolitan Police is investigating but no arrests have been made. The British Museum is taking legal action against the staff member, later named as senior curator Peter Higgs.
Mr Higgs, regarded as one of Britain's top experts on Greek and Mediterranean artefacts, was the British Museum's curator of Mediterranean cultures until earlier this year.
Read more:
Sunak: 'No plans' to return Elgin Marbles to Greece
Natural History Museum is UK's most visited indoor attraction
The 56-year-old had worked at the museum for almost three decades. His family said he denies any wrongdoing.
An antiquities expert told museum officials three years ago that artefacts from its collection were put on sale on eBay. One Roman object, valued at £25,000 to £50,000 by dealers, was offered for just £40.
Museum curator discusses artefacts

A museum source told the Telegraph that the directorate's handling of the case has been "negligent and incompetent".
An independent review of security has been launched. The review will be led by former museum trustee Sir Nigel Boardman, and Lucy D'Orsi, chief constable of the British Transport Police, who will "kickstart" a "vigorous" programme to recover the stolen items.
The Official Football Souvenir Store Liverpool Chelsea Manchester City Arsenal Tottenham Hotspur Manchester United Leicester City Newcastle United West Ham United Barcelona Real Madrid

Source link