The Official Football Souvenir Store

The estate of the late Fleetwood Mac star Christine McVie has sold the rights to her music.
The singer and songwriter's shares in the band's biggest hits, including Go Your Own Way, Landslide, The Chain and Dreams, have been bought by asset management company HarbourView Equity Partners for an undisclosed sum.
McVie died aged 79 of an ischemic stroke in November 2022.
It is the latest in a series of high-profile stars cashing in on the lucrative rights to their back catalogues.
Bruce Springsteen sold the rights to his extensive back catalogue to Sony Music Group in December 2021 in a deal reportedly worth $500m (£435m) – one of the biggest sales to date.
McVie's bandmate Mick Fleetwood sold his interests in the group's recordings in January 2021 to Germany-based BMG, one of the largest global music publishers.
The deal included royalty interests in more than 300 songs, and covered his interests in all of the band's recorded work apart from their first two albums.
Justin Bieber, Bob Dylan and the estates of David Bowie and Whitney Houston have sold all or parts of their song catalogues in recent years.
British-American rock band Fleetwood Mac was founded in London in 1967 and went on to become one of the most successful groups ever.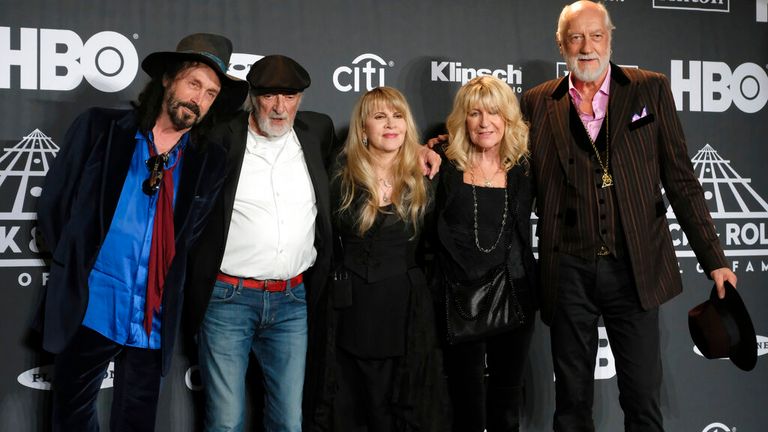 McVie was a later addition to the line-up and performed alongside her husband John McVie, Fleetwood, Stevie Nicks and Lindsey Buckingham.
McVie left Fleetwood Mac in 1998 after almost three decades but rejoined in 2014.
She was among the eight members of the band who were inducted into the Rock & Roll Hall of Fame in 1998.
In 1970, McVie released her first solo album, Christine Perfect – after her maiden name – following it up 14 years later with the self-titled Christine McVie, and In The Meantime in 2004.
In June last year, she released another album titled Songbird, a collection of songs drawn from two of her previous solo albums.
Read more entertainment stories:
New track featuring all four Beatles set for release next week
Disfigurement charity calls for warnings on portrayals in horror films
Game of Thrones' famous Dark Hedges trees could face chop
'We hold her works with pride'
HarbourView chief executive Sherrese Clarke Soares said: "Christine's remarkable talents played an integral role in shaping Fleetwood Mac's sound.
"The band's timeless music and worldwide influence continues to captivate all generations of listeners today.
"We are honoured to uphold that legacy as we welcome Christine's lifetime of work with the band into HarbourView.
"Christine is a decorated and iconic legend in the history of rock'n'roll. She is a global treasure. We hold her works with pride."
The Official Football Souvenir Store Liverpool Chelsea Manchester City Arsenal Tottenham Hotspur Manchester United Leicester City Newcastle United West Ham United Barcelona Real Madrid

Source link