The Official Football Souvenir Store

Two Just Stop Oil protesters have disrupted a Wimbledon match after running out on to the grass and throwing orange confetti.
Play was suspended on Court 18, where Bulgaria's Grigor Dimitrov was playing Japan's Sho Shimabukuro.
Just Stop Oil said the supporters ran on to the court at around 2.10pm and "threw environmentally-friendly orange confetti glitter and jigsaw pieces on to the courts, before being removed".
Wimbledon's organisers said two people have been arrested on suspicion of aggravated trespass and criminal damage following the disruption.
Deborah Wilde, 68, a retired teacher from London, who was one of the protesters who ran on the court, said: "I'm just an ordinary grandmother in resistance to this government's policy of serving us new oil and gas licences. In normal circumstances this sort of disruption would be entirely unacceptable, but these aren't normal circumstances.
"Forget strawberries and cream, scientists are warning of impending food shortages, mass displacement and war. We are facing new pandemics, economic inflation and increasingly authoritarian governments who will attempt to crush civil unrest.
"This is a crisis and it needs a crisis response. I want a safe future, not just for my grandchildren but for all children around the world and the generations to come."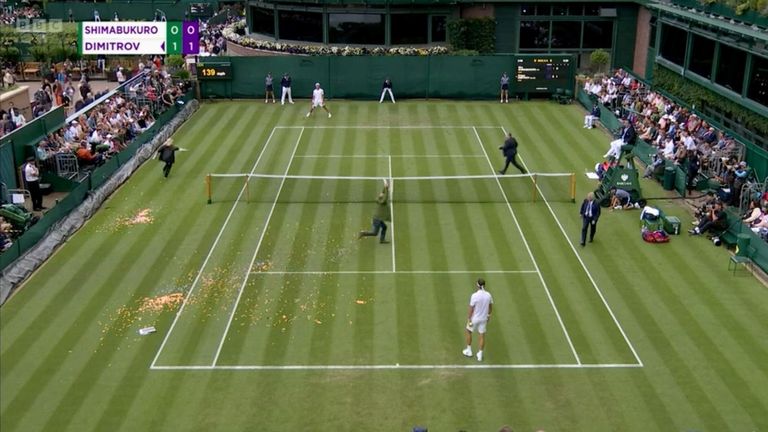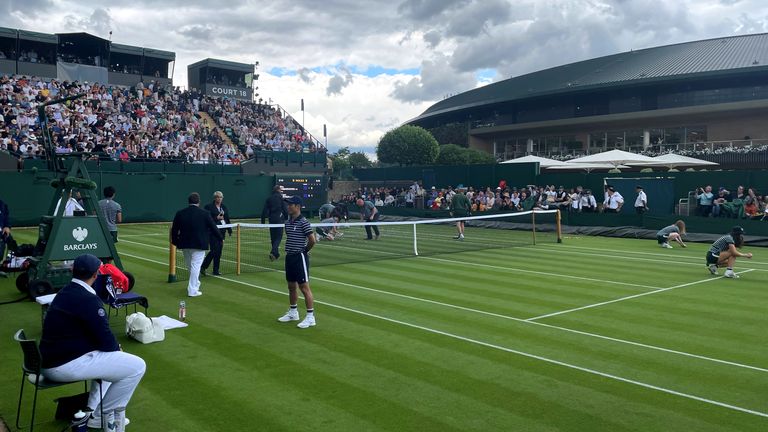 The other Just Stop Oil protester who invaded Court 18 was Simon Milner-Edwards, 66, a retired musician, from Manchester.
He said: "I'm here for my grandchildren and everybody else's. I'm not prepared to let our politicians wreck everything and leave the next generation to pick up the pieces.
"The last thing I want to do is spoil people's enjoyment of Wimbledon, but right now, on Centre Court, it's humanity versus oil and gas – and the umpire is getting every call wrong."
Read more about Just Stop Oil:
Andy Murray warns Just Stop Oil against targeting Wimbledon
Just Stop Oil protesters charged with trespass after disrupting Ashes test
New police powers to crack down on protests come into force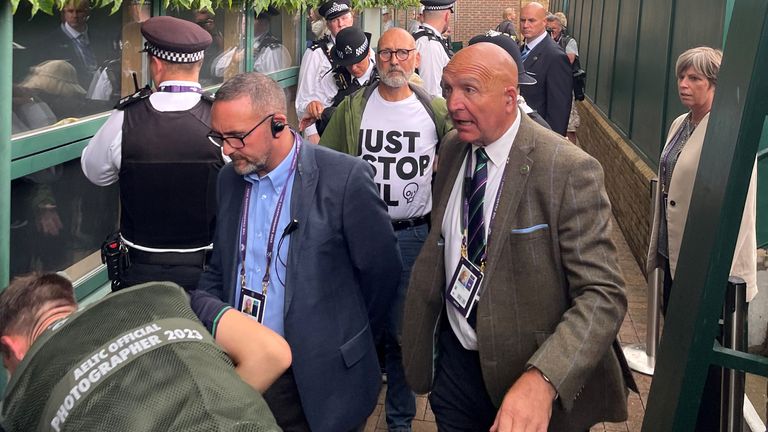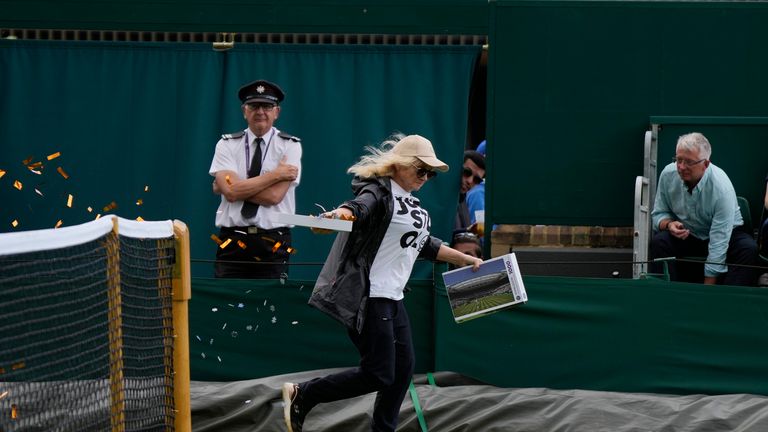 Leafblowers were used to clear the court following the protest.
Security had been enhanced for the Grand Slam after a spate of protests at high-level events in Britain.
A spokesperson for the All England Club said: "Following an incident on Court 18, two individuals have been arrested on suspicion of aggravated trespass and criminal damage and these individuals have now been removed from the grounds.
"Play on the court was temporarily paused and, following a suspension in play due to a rain delay, play is about to resume."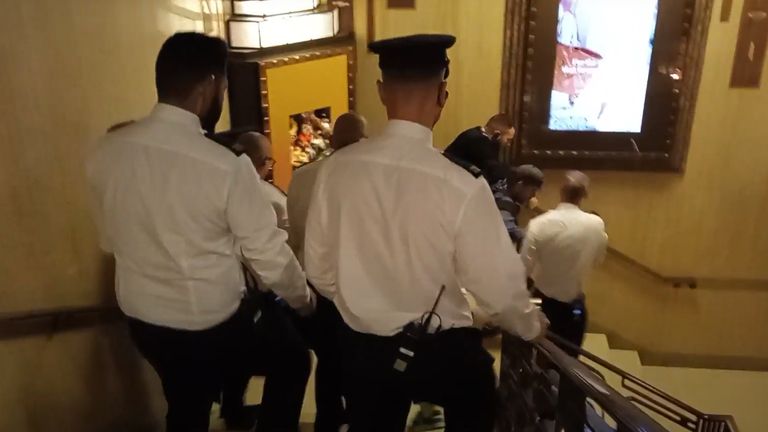 The group also attempted to protest at luxury department store Harrods, with two members of the group pictured on an escalator in the store, before the security team escorted them out.
The environmental group disrupted the second Ashes cricket test at Lord's last week, attempting to spread orange powder on the wicket.
They also intervened in this year's Premiership Rugby final and the World Snooker Championship in Sheffield where they smeared orange powder over a table.
The Official Football Souvenir Store Liverpool Chelsea Manchester City Arsenal Tottenham Hotspur Manchester United Leicester City Newcastle United West Ham United Barcelona Real Madrid

Source link