The Official Football Souvenir Store

Former professional basketball star Magic Johnson has been declared a billionaire by Forbes – becoming only the fourth sportsperson ever to join the elite club.
The wealth magazine estimates Johnson is worth around $1.2bn (£990m).
He joins fellow former NBA players Michael Jordan and LeBron James, and golf star Tiger Woods, in reaching the billionaire benchmark.
Johnson made his initial millions playing professional basketball in the 1980s and 1990s, but retired from playing in 1996 following his HIV diagnosis.
The 64-year-old American, whose real name is Earvin Johnson, only made around $40m (£33m) during his time playing for the Los Angeles Lakers, where he became one of the most recognisable basketball stars in the world.
It is his investments off the court where he has made his first billion, with money in well-known brands, financial services, and sports franchises.
He has stakes in a number of LA sports teams, including the Women's NBA squad Los Angeles Sparks, baseball franchise Los Angeles Dodgers and football's LAFC.
Johnson also holds shares in a Pepsi bottling plant, Starbucks and Burger King, among others.
Forbes said it is his 60% stake in life insurance company EquiTrust that has given Johnson his largest proportion of his personal wealth – the firm has revenues of more than $2.5bn (£2.06bn) a year.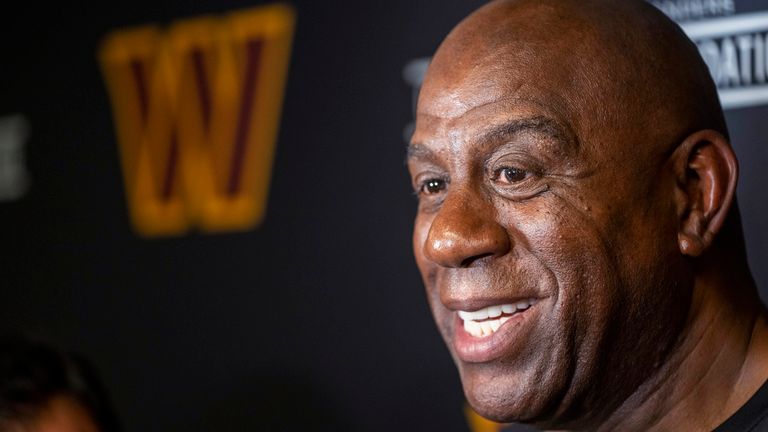 Read more:
Taylor Swift reaches billionaire status
Sir Jim Ratcliffe to buy 25% of Man Utd for £1.3bn
Speaking on a podcast earlier this year, Johnson said he could have become a billionaire sooner, had he not turned down shares in Nike in the 1970s, instead opting for a $1m (£820,000) deal with Converse.
He also sold his $10m (£8.2m) stake in his former LA Lakers team in 2010 to healthcare mogul Dr Patrick Soon-Shiong, with Forbes predicting that Johnson's share would have been worth $29m (£23.9m) at the time – and $265m (£218m) today.
The Official Football Souvenir Store Liverpool Chelsea Manchester City Arsenal Tottenham Hotspur Manchester United Leicester City Newcastle United West Ham United Barcelona Real Madrid

Source link