The Official Football Souvenir Store

Flooding from major rivers could continue until Tuesday following Storm Babet, the Environment Agency (EA) has warned.
Despite the worst of the storm now having passed, rivers in North Yorkshire, the Midlands and the South West could continue to overflow, the agency said.
"Ongoing flooding is probable on some larger rivers including the Severn, Ouse and Trent through to Tuesday," said EA flood duty manager Katharine Smith.
Derby City Council said there were record-breaking water levels in the River Derwent and said the clean-up could take several days.
Pictures gathered by a Sky News team in Rotherham and Catcliffe in South Yorkshire showed cars submerged up to the tops of their doors.
Why so much rain has fallen on UK

In Scotland, where there was a red weather warning in the east of the country on Saturday, a large number of homes that lost power have been reconnected.
Scottish and Southern Electricity Networks said it restored power to 36,000 of its customers by 4.45pm on Saturday following a "day of progress" and was making a "final push" to "reconnect the remaining 700 properties".
The most vulnerable customers are being "spoken to directly and are being offered practical help, support and accommodation where necessary", it added.
The last remaining Met Office weather warning, for rain, expired at midnight.
Rugby pitch submerged under floodwater

In the North Sea, off the coast of Aberdeen, a company operating a drilling platform said it had removed non-essential personnel after four of the platform's eight anchors became detached in severe weather caused by Storm Babet.
Stena Drilling Limited said two coastguard helicopters and a search and rescue helicopter were "mobilised to transfer 45 non-essential personnel from the drilling unit to neighbouring platforms and to Sumburgh on the Shetland Islands".
The Stena Spey platform remains secure and stable, the company added.
Read more:
Why we're likely to see more storms like Babet
Forest floor lifted up by storm – dog walker catches on video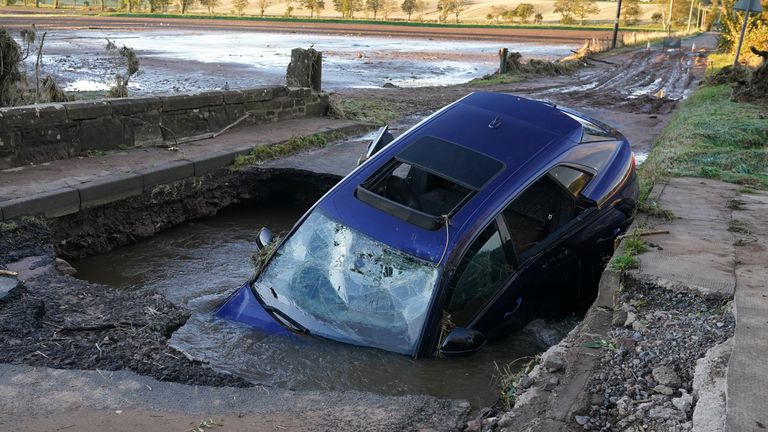 In London, King's Cross station was closed on Saturday afternoon to "manage passenger numbers".
Managers said it was because Storm Babet had brought "severe disruption to the rail network".
A retired man with Parkinson's disease said there was a "high chance of a crush" during overcrowding at the central London terminal.
John Hinson, 61, from North Ferriby in East Yorkshire, said people were "crashing against the barrier" as they tried to reach their trains.
"It was just so dangerous," he said.
The Official Football Souvenir Store Liverpool Chelsea Manchester City Arsenal Tottenham Hotspur Manchester United Leicester City Newcastle United West Ham United Barcelona Real Madrid

Source link