The Official Football Souvenir Store

The shootout between one of the world's largest tech companies and Britain's competition regulator is, at heart, a battle for control of the new frontline of gaming. 
The gaming industry is a $250bn (£204bn) industry that, on some measures, is now larger than the music, book and movie industries combined.
And the fastest growing part is cloud gaming, the emerging technology that allows players to stream games from remote servers rather than buy discs and cartridges for consoles.
That scale, and the capacity for further growth as digital devices approach ubiquity, explains why the Competition and Markets Authority (CMA) was willing to get in the trenches to face down Microsoft in its pursuit of Activision Blizzard, makers of Call Of Duty and World Of Warfare.
The £55bn deal, when and if it happens, will be the largest of its kind in history, so regulators around the world were always going to want to scrutinise the details.
The CMA had found itself holding the line alone, however, after European regulators ran up the white flag and the US courts ruled the deal could go ahead.
Why the change of heart for CMA?

Cloud gaming transforms choice and the user experience, giving gamers access to unlimited content without leaving the house, and the ability to play with and against millions of potential opponents.
The number of UK cloud gamers tripled last year and the CMA says the UK market alone will be worth £1bn by 2026, the same as the domestic music market today.
What concerned the regulator was that the deal could give Microsoft disproportionate control of the market.
The US tech giant founded by Bill Gates already controls up to 70% of cloud gaming services through its ownership of X-Box, Windows and the cloud computing infrastructure platform Azure.
Unchallenged, it feared Microsoft could confine Activision Blizzard's wildly popular games to its own platforms, restricting consumer choice.
Read more:
FIFA is back – but not as fans know it
New iPhone features revealed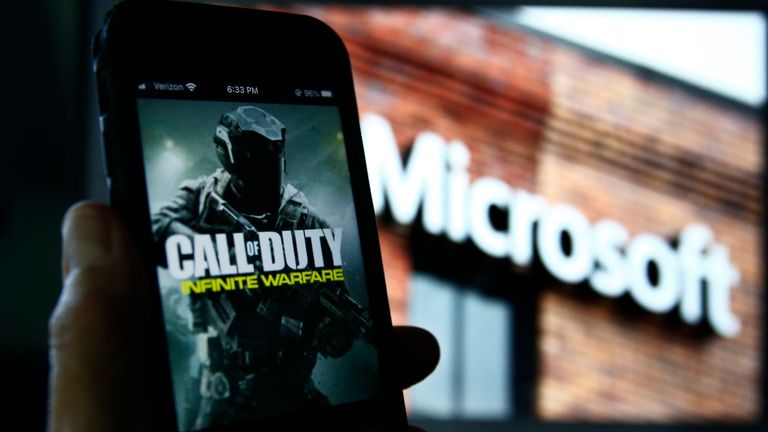 The concession offered by Microsoft will see cloud rights to Activision games sold to a third party, French company Ubisoft, which will be able to offer them to anyone.
Microsoft has also agreed to not purchase cloud rights for any current or future Activision games for 15 years.
Microsoft welcomed the CMA's announcement that the deal largely passes muster, suggesting the US giant considers it a price worth paying for ultimate victory.
The CMA will also think it's won something from this process, however.
It might have been expected to fall in line with EU regulators but instead chose cloud gaming as a hill to die on, standing up to one of the biggest companies in the world and securing concessions without derailing a deal worth millions to shareholders and advisors.
Game over, score draw.
The Official Football Souvenir Store Liverpool Chelsea Manchester City Arsenal Tottenham Hotspur Manchester United Leicester City Newcastle United West Ham United Barcelona Real Madrid

Source link