The Official Football Souvenir Store

More than 1,000 officers from forces around the country will be drafted in to help the Metropolitan Police this weekend amid intense political pressure to prevent disruption to remembrance events.
Police chiefs have backed Met commissioner Sir Mark Rowley's decision to resist banning a pro-Palestinian march on Armistice Day despite comments from the prime minister and the home secretary.
Gavin Stephens, who is chairman of the National Police Chiefs' Council (NPCC), said demonstrations which have seen hundreds of thousands of people take to the streets across the country over the past five weeks in response to the Israel-Hamas war had been "largely peaceful".
He told reporters there had not been "serious violence or serious disorder", other than some highly publicised incidents, although there was a "minority intent on disrupting the law-abiding masses".
With protesters and counter-demonstrators expected to travel to London this weekend from across the country, more than 1,000 officers are being drafted in from other forces in every region of England and Wales.
Rishi Sunak said he would hold Sir Mark accountable for allowing the pro-Palestine march to go ahead, while Suella Braverman provoked widespread condemnation for an article she wrote in The Times.
She once again described those taking part as "hate marchers" and accused police of "playing favourites" with left-wing groups over right-wing and nationalist activists.
Mr Stephens said it is not the job of police to hold the home secretary to account but stressed the importance "that the public debate doesn't feature in our operational decision-making" because it would "fundamentally undermine" policing.
"In policing we need the space to make difficult operational decisions in an independent manner," he said.
"The decisions that we take are not easy ones, but we do so impartially, without fear or favour, and in line with both the law and our authorised professional practice."
Will the PM sack Braverman?

Asked if police were biased, he said decisions were taken "without fear or favour", adding: "We do not take into account whatever our personal view may be on a topic."
Mr Stephens also said he considered it a civic responsibility to use language carefully and not stoke community tensions.
"I do what I can to give that reassurance to keep temperatures low when we are in times of such awful, tragic international conflict that is affecting so many families across the world and language is important," he said.
"And our actions in diffusing tensions are important. And we take those very seriously in policing."
Read more:
Sunak has 'full confidence' in Braverman after controversial article
Braverman's hat-trick of own goals in Northern Ireland
The home secretary's long list of controversies
Some 29 people were arrested over the protest last weekend, during which fireworks were thrown, while previous weeks, where up to 2,000 officers have been on duty, have seen troubling incidents of antisemitism and support for banned terrorist group Hamas, and a member of the crowd at a fringe Hizb ut-Tahrir protest chanting "jihad".
Organisers say Saturday's protest will be "well away" from the Cenotaph – going from Hyde Park, around a mile from the war memorial in Whitehall, to the US embassy – and won't start until after the 11am silence.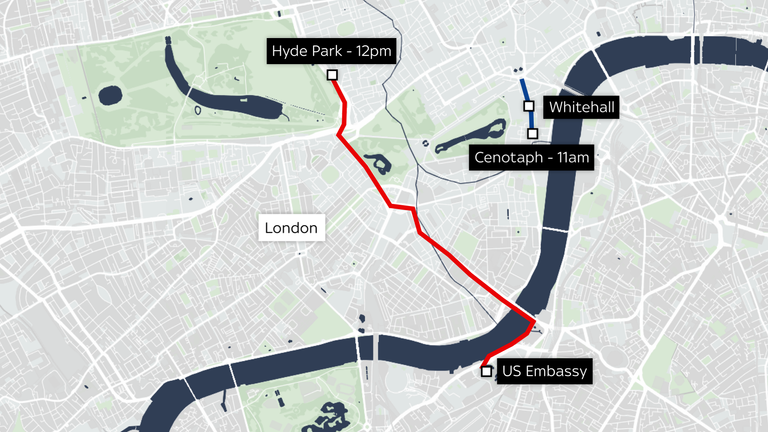 Chief Constable Chris Haward, who is leading the national police response to the Israel-Hamas war, said even if the march was banned, protesters would still have the right to gather in one place.
"The threshold (for a ban) is extremely high. It is about serious violence, and not about the words that might be chanted," he said.
"Even if you ban the march, you cannot ban the assembly. You will still expect to have 100,000 people, maybe more, turning up who will then be in a static position."
He said counter-protests would be facilitated "without bias" but warned hate crime or law-breaking will not be tolerated.
Mr Haward also revealed a surge in hate crime following the Hamas attack on Israel on 7 October has been particularly big in London, with the Met currently accounting for more than 70% of offences nationally, compared to less than a quarter normally.
The Official Football Souvenir Store Liverpool Chelsea Manchester City Arsenal Tottenham Hotspur Manchester United Leicester City Newcastle United West Ham United Barcelona Real Madrid

Source link