The Official Football Souvenir Store

Saudi Arabia is on course to host the 2034 World Cup after Australia announced it would not be bidding to stage the tournament.
Earlier this month, Saudi Arabia submitted to FIFA its official intention to host the men's event after football's governing body restricted the process to countries from Oceania and Asia.
An Australian bid was seen as the only serious potential challenger to Saudi Arabia.
But in a statement – hours before FIFA's deadline for declarations of interest on Tuesday – Football Australia said it had "explored the opportunity" of a bid but had decided against it.
"Having taken all factors into consideration, we have reached the conclusion not to do so for the 2034 competition," it said.
"Football Australia is ambitious to bring more major tournaments to our shores. We believe we are in a strong position to host the Women's Asian Cup in 2026 and then welcome the greatest teams in world football for the 2029 FIFA Club World Cup."
It added hosting those events, in between the 2023 Women's World Cup and 2032 Olympics in Brisbane, would complete a "truly golden decade for Australian football".
With the 2026 event heading to the United States, Canada and Mexico and the 2030 World Cup to Spain, Portugal and Morocco, including some matches in South America – subject to approval by FIFA's congress – only bids from the Asian Football Confederation and the Oceania Football Confederation will be considered for the 2034 tournament.
Hosting a World Cup would be the next step in Saudi Arabia's vast investment in sport – particularly attracting stars including Cristiano Ronaldo to play in the kingdom.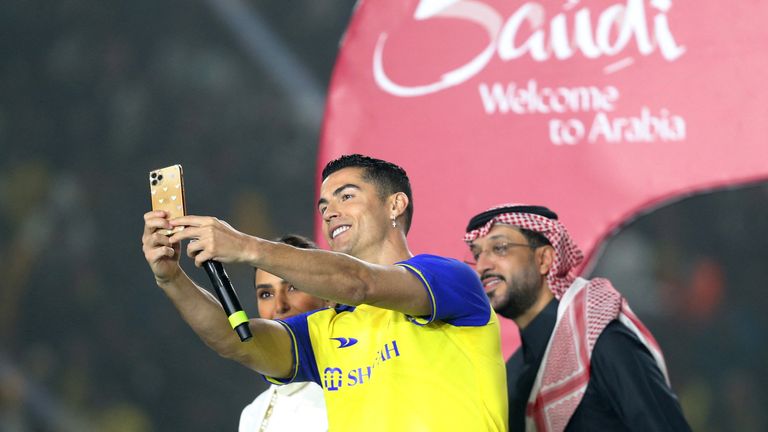 Saudi minister of sport, Prince Abdulaziz bin Turki al Faisal, said in a statement via the Saudi Press Agency: "Hosting a FIFA World Cup in 2034 would help us achieve our dream of becoming a leading nation in world sport and would mark a significant milestone in the country's transformation.
"As an emerging and welcoming home for all sports, we believe that hosting a FIFA World Cup is a natural next step in our football journey."
The Saudi bid has already garnered support from the Asian Football Confederation.
Its president, Sheikh Salman bin Ibrahim al Khalifa, said earlier this month: "The entire Asian football family will stand united in support of the Kingdom of Saudi Arabia's momentous initiative."
A World Cup in the kingdom could see Saudi Arabia breaching FIFA requirements to not discriminate against gay people – changes introduced in the fallout from the 2022 World Cup going to Qatar despite its anti-LGBT laws.
Saudi sports minister Prince Abdulaziz bin Turki al Faisal told Sky News last year: "There are rules that everyone respects about our culture and how they have to abide by the culture that we have.
"So even men and women – they can't show affection in public places, and so on. And that's a regulation that we have that we need to respect. And we have to respect the culture."
Read more from Sky News:
Lionel Messi wins record eighth Ballon d'Or
Police search forest for kidnapped father of Liverpool star
Last week Human Rights Watch complained FIFA was failing to apply its own rules to Saudi Arabia's bid, specifically article seven of its human rights policy.
The article states: "FIFA will constructively engage with relevant authorities and other stakeholders and make every effort to uphold its international human rights responsibilities."
Minky Worden, director of global initiatives at Human Rights Watch, said: "The possibility that FIFA could award Saudi Arabia the 2034 World Cup despite its appalling human rights record and closed door to any monitoring exposes FIFA's commitments to human rights as a sham."
A FIFA Congress of the 211 football nations will confirm the hosts later in 2024.
FIFA is yet to choose a Women's World Cup host for 2027 with a decision not due until next year.
The Official Football Souvenir Store Liverpool Chelsea Manchester City Arsenal Tottenham Hotspur Manchester United Leicester City Newcastle United West Ham United Barcelona Real Madrid

Source link